---
---
Meteor65, a leading 1S whoop WINTER TIME drone. This 22.83g lightweight whoop drone comes with a completely new look with a special micro canopy, supporting the serial ExpressLRS 2.4G. Equipped with the BT2.0 connector, the lightest F4 1S 5A FC (2022), new 0802SE 19500KV motors, and C03 FPV camera. With the combination of those electronics and parts, it reaches the best balance between performance, weight, durability, and premium build design.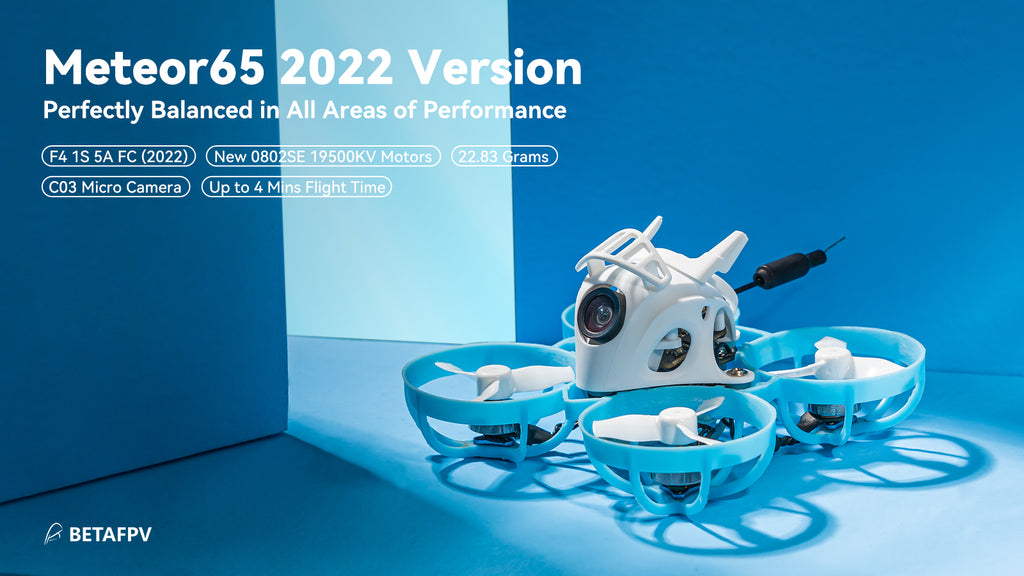 Bullet Point
Meteor65 is the first generation whoop drone powered by a brand-new BT2.0 1S battery. The BT2.0 connector effectively decreases internal connector resistance for a much better discharge performance compared with the initial PH2.0 connector. 

By using the latest 0802SE 19500KV motors and 31mm 3-blade props, this kit provides you with a completely different experience of a powerful indoor flight.


Built-in 1.52g ultralight weight and upgraded

 

C03 FPV camera. This new camera has optimal performance for indoor whoop drones.

Adopt with injection molding technique, this canopy is 1.60g ultralight weight and is more durable, anti-ruin, and heat-resistant, providing good protection for the whoop drone.
F4 1S 5A FC (Serial ELRS 2.4G) is flexible in upgrading and has great potential. It supports being upgraded to ELRS V3.0 separately without flashing Betaflight flight controller firmware.

The various colors of the spare parts including the

 

65mm frame,

 

micro canopy, and

 

propellers

 

offer pilots more choices.
Specification

Item: Meteor65 1S Brushless Whoop (2022)
Weight: 22.83g (without battery)
FC&ESC: F4 1S 5A FC (Serial ELRS 2.4G)
Frame: Meteor65 65mm 1S Brushless Frame
Motors:

 

0802SE 19500KV Motor
Props:

 

31mm 3-blade props (1.0mm Shaft)
Tilt: 30° (default)/20° (optional)
Camera:

 

C03 FPV Camera
VTX: 

M03 25-350mW VTX

Canopy: Canopy for Micro Camera 2022 version
Battery:

 

BT2.0 300mah 1S Battery

Flight time: 4 mins
Let's see what's new in Meteor65 2022 version. It comes with a new micro canopy, which reduces the influence of heat on electronics. Supports serial ExpressLRS 2.4G instead of SPI ERLS 2.4G. And the new C03 FPV Camera ensures a high-quality and clear image.
| | | |
| --- | --- | --- |
| | Meteor65 (2022) | Meteor65 (2021) |
| FC&ESC | F4 1S 5A FC (2022) | F4 1S 5A FC |
| RX | Serial ELRS 2.4G | SPI ELRS 2.4G, SPI Frsky, TBS |
| Camera | C03 FPV Camera | C02 FPV Camera |
| Motors | New 0208SE 19500KV (Ice Blue) | 0208SE 19500KV (Black version) |
| Canopy | New Micro Canopy (2022) | Micro Canopy |
| Tilt | 20° or 30° | 30° |
| Weight | 22.83g (without battery) | 22.84g (without battery) |
| Flight Time | 4 mins | 3.5-4 mins |
BETAFPV upgraded all Meteor Series quadcopters like Meteor65, Meteor65 Pro, Meteor 75, and Meteor85 whoop quadcopters, through the new flight controller, motors, camera, frame, canopy, etc, to provide the best Tiny Whoop for pilots.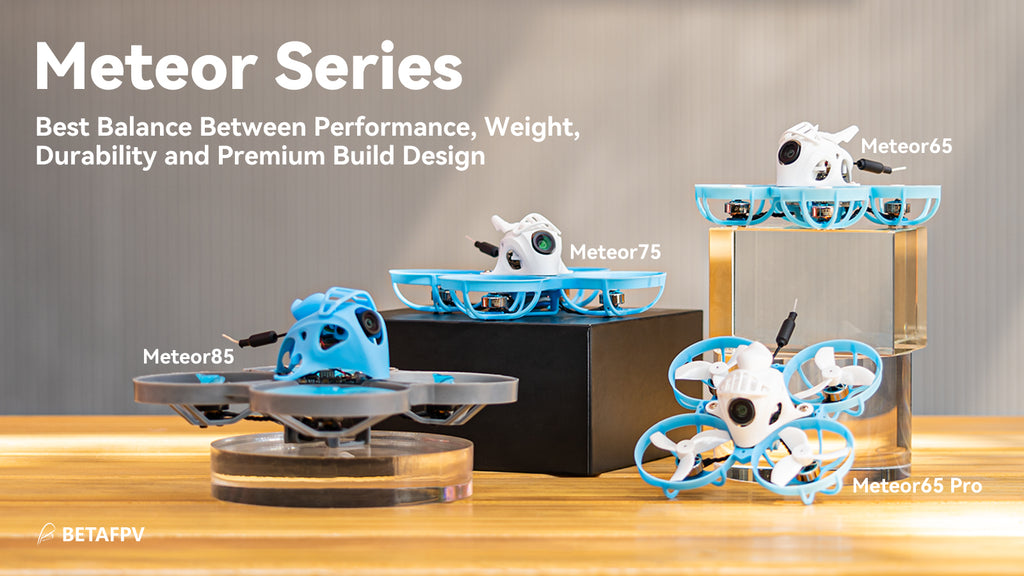 BT2.0 Connector
BETAFPV exclusive designed BT2.0 connector has broken through the bottle-neck of PH2.0 connector. BT2.0 connector has decreased internal resistance of connector effectively allowing more current to be transferred, which means it supports 9A continuous current (15A burst). This means stronger power and longer flight time on 1S brushless drones while PH2.0 just supports 4.5A. You can enjoy more flight time without disturb of low voltage warning due to reducing voltage sag. 
See the graph below of comparing the BT2.0 connector and PH2.0 connector (solid pin version) in BETAFPV 1S 300mAh battery. The discharge current is 9A in this test. The BT2.0 has double the time (about 2 minutes) and a 0.2v improvement in voltage sag.
Flight Controller & ESC
The latest F4 1S 5A flight controllers are applied to all BNF versions of Meteor65. It features Serial ELRS 2.4G instead of SPI ELRS 2.4G for ELRS version compared to the previous version. The Frsky version reserves two UART ports for the available external receiver so it can be used as PNP and can be switched to Futaba SFHSS protocol through Betaflight configurator. The ESC on the new board powered by BB51 hardware in place of BB21 comes with Bluejay 96k ESC firmware, allowing 0802SE 19500KV motors to give full play to the efficiency of power. We update the gyro to BOSH BMI270 for better performance and stability since the new F4 1S 5A FC.
| | |
| --- | --- |
| | Meteor65 (ELRS) |
| FC Inside | F4 1S 5A FC (Serial ELRS 2.4G) |
| Gyro | BMI270 |
| FC Firmware | BETAFPVF411 |
| UART Port | One UART Port |
| External RX | Not Supported |
Note: For F4 1S 5A FC (serial ELRS 2.4G), ONLY Betaflight firmware 4.3.0 and up start to support BMI270 gyro. If you update the 4.3.0 and up firmware for serial ELRS 2.4G from the Betaflight official site, please flash the CLI dump file for Meteor65.
Download the FC firmware and CLI dump file for Meteor 65 ELRS2.4G, Frsky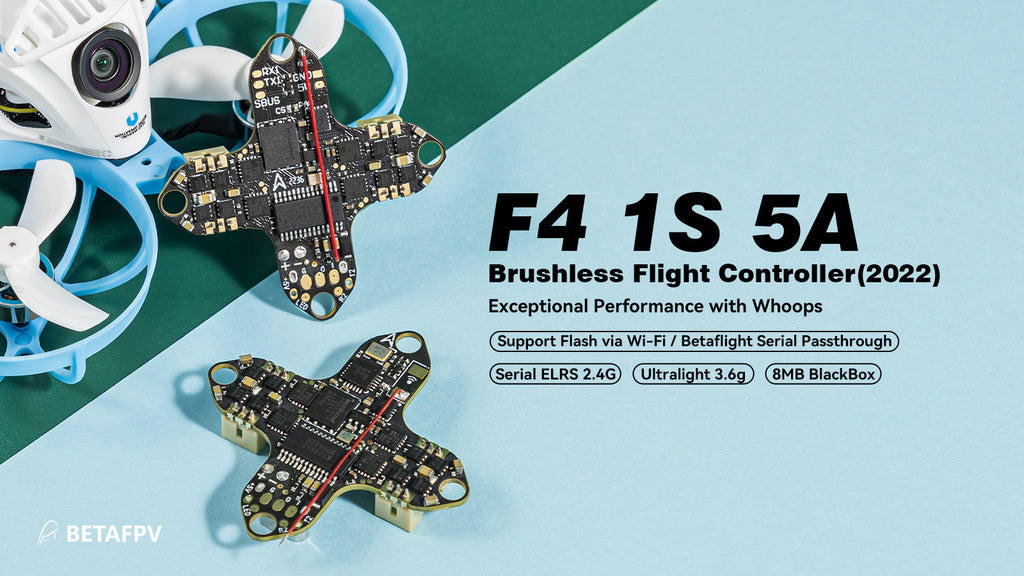 C03 Camera
C03 FPV Micro Camera is 1.52g ultralight weight and a great camera for indoor micro FPV quadcopters. It features a 1200TVL definition with 1/3" CMOS sensor, 2.1mm lens for 160° FOV, and excellent latency, which boasts high-quality, clear and sharper images through your goggles.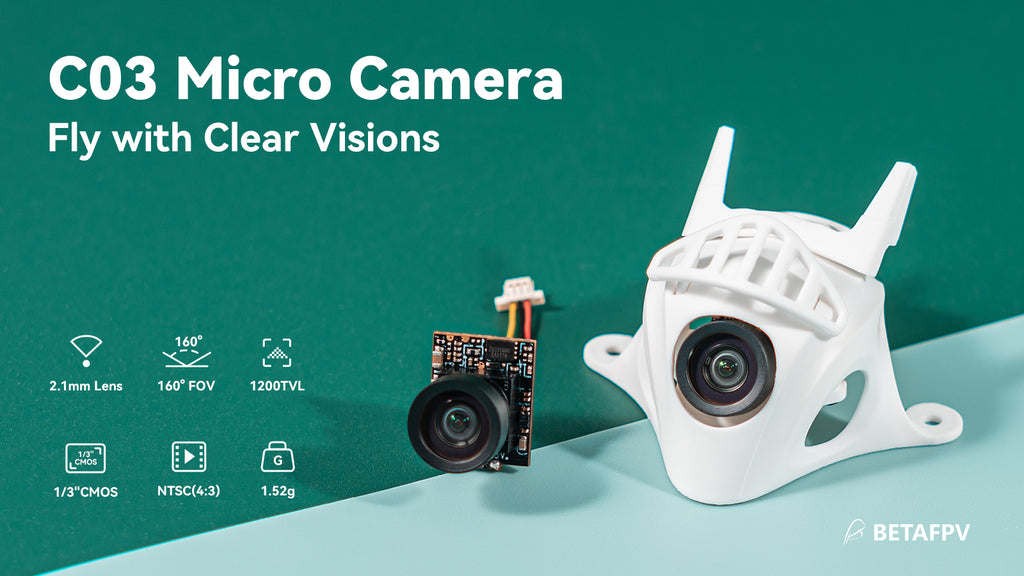 Motors
0802SE 19500KV Motor motor is a lightweight 1S motor, compared with the 0802 series brushless motors, it is not only significantly reduced the weight which is only 1.88g/pc but also ensures excellent performance of power and thrust. It makes the perfect dynamic balance, which gives the drone more flexibility and longer flying time.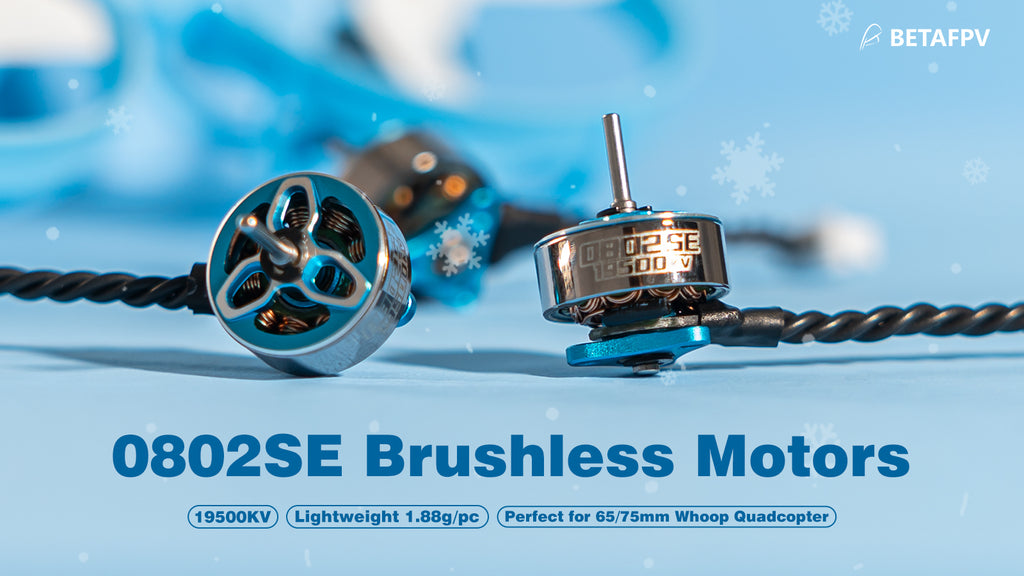 Meteor65 Frame
The lightest lower profile 65mm frame - Meteor65 frame is 3.25g only. The battery slot is closer to the center of gravity for a smoother flying experience, and you will land on the motor screws instead of the battery. There are more options for colorful frames such as Beta-blue, mint-green, sakura-pink, mango-orange, etc.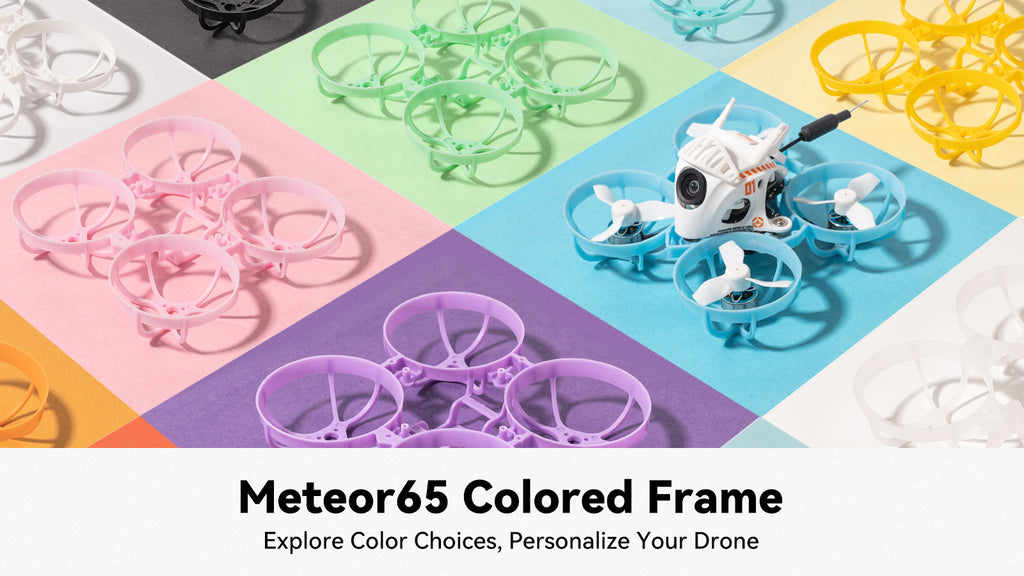 Recommended Parts
FAQ
ExpressLRS is the most popular radio link in 2021. ExpressLRS aims to achieve the best possible link performance in both speeds, latency, and range. Know more about the ExpressLRS 

project on 

Github

 or join the discussion in the 

Facebook Group

.
Package
1 * Meteor65 Brushless Whoop Quadcopter (2022)
2 * 300mAh 1S 30C Battery with BT2.0 connector
1 * BT2.0 Battery Charger and Voltage Tester

1 * TypeC USB cable

1 *

 

Customized Carry Case

1 * Spare 31mm 3-blade props (1.0mm Shaft)
1 * S

crewdriver

3 * Decorative Parts

1 * 20° Lens Camera Mount for C03 Camera

1 * 30° Lens Camera Mount for C02 Camera

---