---
---
We at Tinywhoop are excited to bring you this new 6 port 1S battery charger from BETA FPV. This charger supports PH2.0 and BT2.0 at the same time! Compact, fast-charging, and portable, choosing a 1S battery charger that best suits your needs will no longer be difficult with this 6 Ports 1S charger & adapter.
            SPECIFICATIONS

Item: 6 Ports 1S Battery Charger & Adapter
Input connector: Type-C 
Input voltage range: 5-12V
Max input power: 30W
Max input current: 2.5A
Max charging current: 1A (Single-port)
Support battery connector: BT2.0&PH2.0
Charging protocol:PD3.0/QC3.0 (5V/9V/12V) /BC1.2  
Battery Type: LiHV 4.35V
Dimensions:79*46*19mm
With BT2.0/PH2.0 two types of battery ports, the charger allows charging BT2.0 and PH2.0 batteries at the same time. 
By supporting multi-charging

 protocols including PD3.0/QC3.0/BC1.2, every port's charging current can reach 1A, which makes charging faster.

This portable 

30W Type-C power adapter offers fast, efficient charging at home, or on the go. 
The power adapter is compatible with any USB‑C-enabled device,

 you can also pair it with other devices to take advantage of the fast-charging feature.
The 30W power adapter supports multi-charging protocols including PD3.0   /QC3.0/  BC1.2, equipped with 6 ports 1S battery charger with a maximum charging current of 1A, which makes charging faster. 6 BT2.0 300mAh 1S batteries can be fully charged in about 25 minutes. 
Button Function
The function of the button is to switch the charge voltage: 4.35V.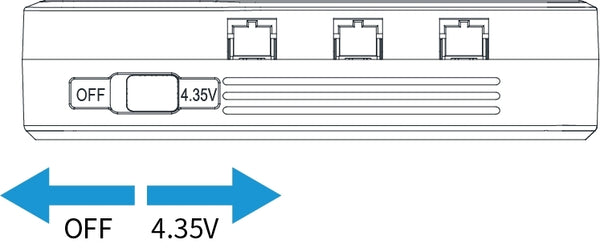 The new batches' switch left side changes the "4.2V" to "OFF". See the picture above.
---