---
---
The same Fractal75 that you know and love but without the included 75mm whoop frame to chop up. You can either provide your own, or run without the guards! Check out our selection of frames here and our Collection of Fractal Gear HERE.
The Fractal 75 is another excelling innovation from a Tiny Whoop community member on the original Tiny Whoop frame design! My friend Yves in Taiwan has created this unique little kit consisting of a carbon fiber centerpiece with four detached ducts and an ultralight camera mounting system. The overall design is modular, customizable, durable and light-weight!

Here's what Fractal Engineering has to say:
— A little backstory —
The lifecycle of this craft started back in 2018 already, right around when brushless 0603 powertrains appeared and started looking like a solid next step in 65mm whoop class
Back then I entered the class with a UR65, and although it flew great compared to any other canopy whoop I've tried before, something was still off…
The nylon frame didn't seem to hold up very well to the added weight and power from the brushless era design.
It needed to improve on 2 main factors; rigidity and weight.
So I went to work and came up with the first revision of the project, based on the CrazybeeF3 board and 0603 spinners.
Basically an UR65 powertrain on a carbon frame with individual ducts and 3D printed parts
And while it was great for my basher use, the weight, at 23g wasn't quite up to my standard…so the project fell off, waiting for better hardware to support the idea…
For almost 3 years I kept flying the first revision occasionally until Happymodel released the right hardware that would make it all possible this time…
You may think there isn't much to it, that I'm just pulling it out of my arse, but trust me, there is lots of R&D and testing that went into it; I wouldn't have released it otherwise.
This frame was designed to the lightest it could, where it could, without compromising strength, where it needed it the most, in true aerospace engineering fashion.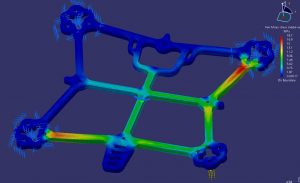 here's a little snippet of the FEA optimization Fractal Engineering performed,
ensuring the stress gets spread out across the whole structure without concentrations
— So what about that frame? —
Remaining true to its original intent, the Fractal65 features:
75mm diagonal, squished X geometry, for 31mm props
1.5mm Carbon Fiber / Individual Nylon ducts hybrid construction
Low-profile camera mount, no props in view, no tilt offset
Low Center of Gravity, by bringing the AIO closer to the frame/motors
Allows mounting with USB pointing up for easy accelerometer calibration
No need for a canopy as all electronics are tucked safely between the ducts
Maximum rigidity where it matters most; connecting the motors to the FC
Easy maintenance, break one duct, replace only the single duct
Lightweight, less than 19.5g with HM DiamondF4
As always, this is a project that I designed for myself first, that I put together in a product to share with any pilot that would like to experience the same level of requirements!
Designed with love, by a pilot, for pilots.
But don't take my word for it, here's what Team Pilot Glenn "Bellaciao" has to say about it:
I am using the whoop at Full Send FPV's races every week. I've been finishing higher and higher, even got a podium the other day. It is extremely stable in flight, and working on it has been incredibly easy. I am surprised at how the flight controller has held up – it is more protected than I expected. Redpine is a dream. Putting an 85% throttle cap on it improves the battery vastly. For angle racing, the camera angle was too aggressive. After a buddy glued the camera to about a 30 degree angle greatly improved angle racing performance, at the cost of acro performance. I cannot state enough how much I love the flight performance, stability, and workability of this platform. I already am planning on building a second one to use as my backup racer, and want to use this as my racing whoop frame, period.
— What do you get? —
This frame kit contains everything you need to build your own craft, based off virtually any components.
I do however recommend a 4-1 AIO (FC/ESC/RX/VTX) to keep the part count to a minimum, but there should be enough room to stack a separate VTX or RX on top of the AIO
It has a 25.5×25.5mm mounting pattern for the AIO, and motor fixations for both 3xM1.4×6.6mm and 3xM1.6×5.5
The camera mount is 3D printed and universal – I will upload the STL and Step files so you may print your own spares or season them to taste 🙂
— Contents: —
1x Fractal 75 Base Plate
2x Printed TPU fixations (camera, front and rear battery mounts)
14x M1.4x5mm steel machine screw for motors
4x M1.7x5mm self-threading screw for short board grommets
4x M1.7x7mm self-threading screw for long board grommets
This does not include a frame. You can buy your favorite frame and use it on this for full customization.
---