---
---
Want a 1S whoop outdoor, around the house and yard? Meteor75 Brushless Whoop Quadcopter would be your best choice! This whoop quadcopter is equipped with the ultralight F4 1S 5A FC (2022), supporting serial ExpressLRS 2.4G, Frsky, or TBS RX for options. The new canopy with special style and high-quality C03 FPV camera combined with 0802SE 19500KV motors make it perfectly balanced in all areas of performance.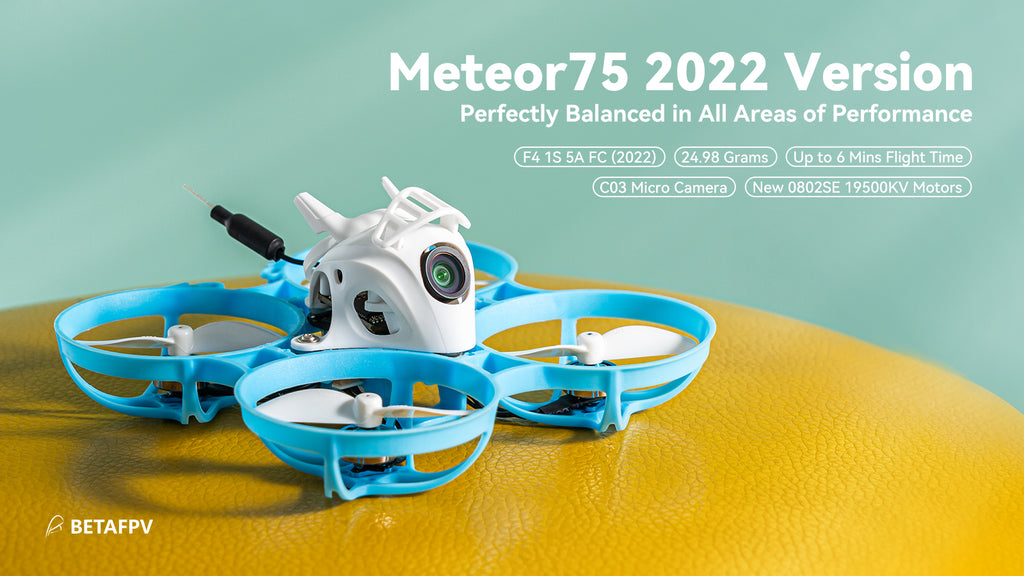 Bullet Point
Meteor75 is the first generation whoop powered by a brand-new BT2.0 connector 450mAh battery. The BT2.0 connector effectively decreases internal connector resistance for a much better discharge performance compared with the initial PH2.0 connector

The power system uses the latest 0802SE 19500KV motors and 40mm 2-blade props, which provides pilots a stronger experience of a powerful indoor and outdoor flight

Built-in 1.52g ultralight weight and upgraded

 

C03 FPV camera. This new camera has optimal performance for indoor whoop drones.

Adopt with injection molding technique, this canopy is 1.60g ultralight weight and is more durable, anti-ruin, and heat-resistant, providing good protection for the whoop drone.


Reserve two UART ports on F4 1S 5A FC (SPI Frsky) board. The Frsky version also can be used as the PNP version. Therefore, pilots can connect the external receiver to it.

F4 1S 5A FC (Serial ELRS 2.4G) is flexible in upgrading and has great potential. It supports being upgraded to ELRS V3.0 separately without flashing Betaflight flight controller firmware.

The various colors of the spare parts including the

 

75mm frame and micro canopy, offer pilots more choices. Using them with BETAFPV waterslide decals, pilots can easily DIY and build their unique whoop drones.
Specification
Item: 

Meteor75 Brushless Whoop Quadcopter (2022)

FC&ESC: F4 1S 5A FC (Serial ELRS 2.4G)

/

F4 1S 5A FC (SPI Frsky)
Frame:

 

Meteor75 Frame
Motors: 0802SE 19500KV Motor
Props: 40mm 2-Blade Propellers (1.0mm Shaft)
Camera: C03 FPV Camera
Tilt: 30° (default)/20° (optional)

Canopy: Canopy for Micro Camera 2022 version

Receiver Option: ELRS2.4G, Frsky/PNP, TBS Crossfire
VTX: 

M03 25-350mW VTX

Battery:

 

BT2.0 450mAh 1S 30C Battery
Flight time:

 6 mins (stable flying) / 4.5 mins (acro flying)

Weight: 24.98g
BETAFPV Meteor Series
This is the new Meteor75 Analog VTX version with a new micro canopy, built-in serial ExpressLRS 2.4G instead of SPI ERLS 2.4G, and the new C03 FPV camera that ensures a high-quality and clear image. For pilots who want to fly 1S HD whoop drone, Meteor75 HD digital VTX is a good choice.
| | | | |
| --- | --- | --- | --- |
| | Meteor75 (2022) | Meteor75 (2021) | Meteor75 1S HD |
| FC&ESC | F4 1S 5A FC (2022) | F4 1S 5A FC | F4 1S 5A FC (2022) |
| RX | Serial ELRS 2.4G, SPI Frsky/PNP, TBS | SPI ELRS2.4G, SPI Frsky, TBS | Serial ELRS 2.4G, SPI Frsky/PNP, TBS |
| Camera | C03 FPV Camera | C02 FPV Camera | Walksnail Camera or HDZero Camera |
| VTX | M03 Analog VTX | M03 Analog VTX | Walksnail Avatar Mini HD VTX or HDZero Whoop Lite Bundle |
| Motors | 0802SE 19500KV Motor | 1102 18000KV Motor or 0802SE 19500KV Motor (ELRS) | 1102 18000KV Motor |
| Props | 40mm 2-blade | 40mm 3-blade or 40mm 2-blade | 40mm 3-blade |
| Canopy | New Micro Canopy (2022) | Micro Canopy | Micro Canopy for HD Camera |
| Tilt | 20° or 30° | 30° | 0-45° |
| Flight time | 6 mins (stable flying) | 3-4 mins | 3.5 mins (HDZero) or 3 mins (Walksnail) |
BETAFPV upgraded all Meteor Series quadcopters like Meteor65, Meteor65 Pro, and Meteor 75 whoop quadcopters, through the new flight controller, motors, camera, frame, canopy, etc, to provide the best whoop quadcopters for pilots.
Flight Controller
The latest F4 1S 5A flight controllers are applied to all BNF versions of Meteor75. It features Serial ELRS 2.4G instead of SPI ELRS 2.4G for ELRS version compared to the previous version. The Frsky version reserves two UART ports for the available external receiver so it can be used as PNP and can be switched to Futaba SFHSS protocol through Betaflight configurator. The ESC on the new board powered by BB51 hardware in place of BB21 comes with Bluejay 96k ESC firmware, allowing 0802SE 19500KV motors to give full play to the efficiency of power. We update the gyro to BOSH BMI270 for better performance and stability since the new F4 1S 5A FC.
| | | |
| --- | --- | --- |
| | Meteor75 (ELRS) | Meteor75 (Frsky, PNP, TBS) |
| FC Inside | F4 1S 5A FC (Serial ELRS 2.4G) | F4 1S 5A FC (SPI Frsky) |
| Gyro | BMI270 | BMI270 |
| FC Firmware | BETAFPVF411 | BETAFPVF411RX |
| UART Port | One UART Port | Two UART Ports |
| External RX | Not Supported | Supported |
Note: For F4 1S 5A FC (serial ELRS 2.4G), ONLY Betaflight firmware 4.3.0 and up start to support BMI270 gyro. For F4 1S 5A FC (SPI Frsky), we recommend using BETAFPVF411RX 4.2.11 firmware and CLI dump file offered by BETAFPV. If you update the 4.3.0 and up firmware for serial ELRS 2.4G from the Betaflight official site, please flash the CLI dump file for Meteor75.
Download the FC firmware and CLI dump file for Meteor 75 ELRS2.4G, Frsky, or TBS.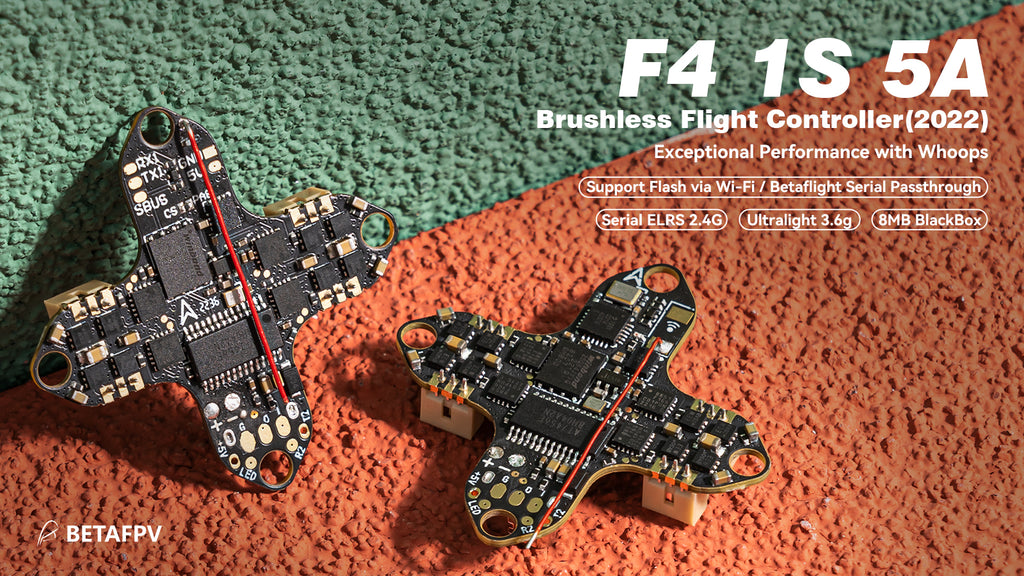 C03 Camera
C03 FPV Micro Camera is 1.45g ultralight weight and a great camera for indoor micro FPV quadcopters. It features a 1200TVL definition with 1/3" CMOS sensor, 2.1mm lens for 160° FOV, and excellent latency, which boasts high-quality, clear and sharper images through your goggles.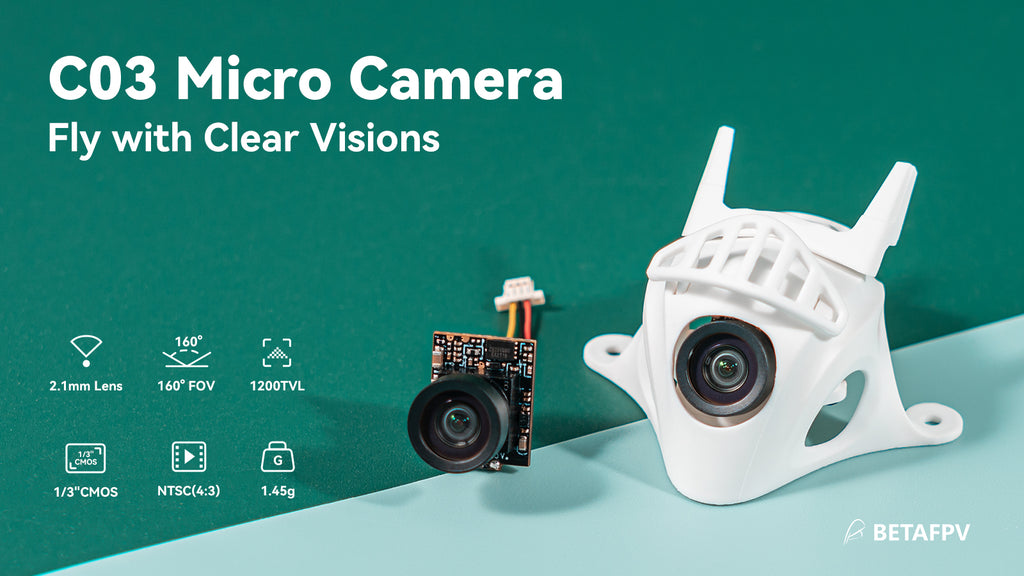 Motors
0802SE 19500KV Motor motor is a lightweight 1S motor, compared with the 0802 series brushless motors, it is not only significantly reduced the weight which is only 1.88g/pc but also ensures excellent performance of power and thrust. It makes the perfect dynamic balance, which gives the drone more flexibility and longer flying time.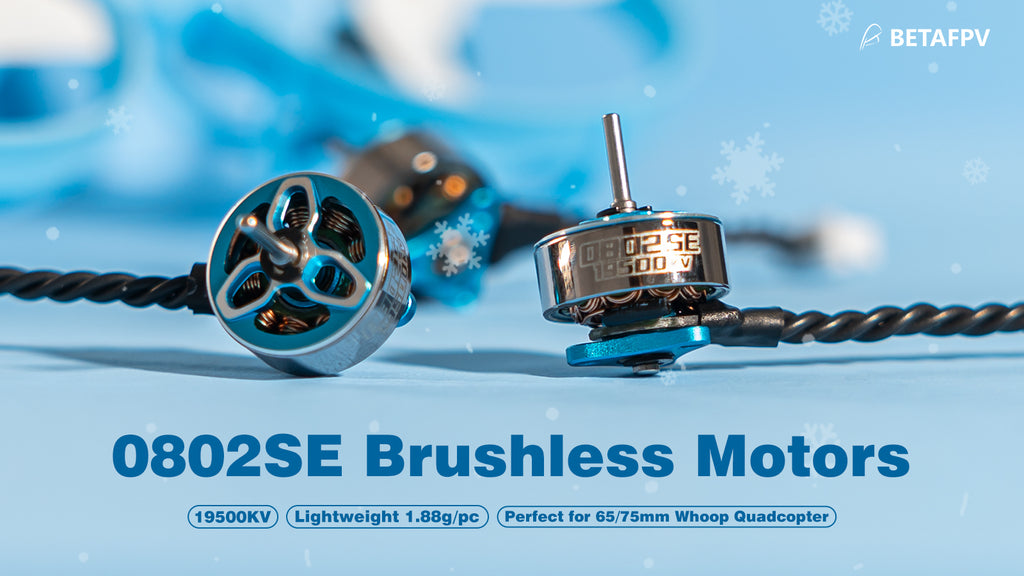 Frame

This frame is ultralight only 5.68g and durable enough. The battery slot is closer to the center of gravity for a smoother flying experience, and you will land on the motor screws instead of the battery. BETAFPV offers various colors of Meteor75 frames for options, making DIY easier.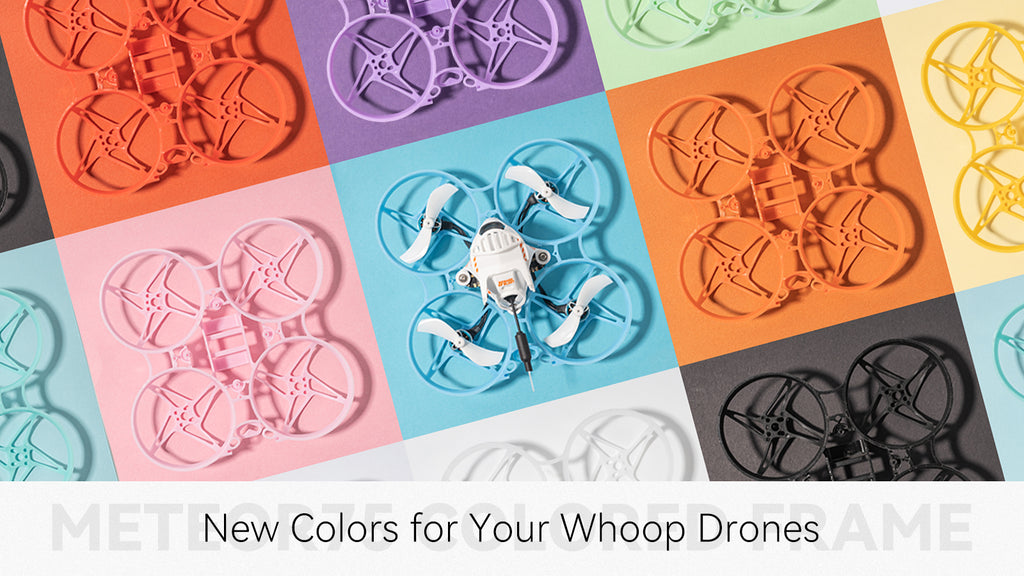 Recommended Parts
FAQ
ExpressLRS is the most popular radio link in 2021. ExpressLRS aims to achieve the best possible link performance in both speeds, latency, and range. Know more about the ExpressLRS 

project on 

Github.
Package
1 * Meteor75 Brushless Whoop Quadcopter (1S)
2 * 450mAh 1S 30C Battery with BT2.0 connector

1 * BT2.0 Battery Charger and Voltage Tester

1 * TypeC USB cable

1 *

 

Customized Carry Case

1 * Spare 40mm 2-Blade props (1.0mm Shaft)
1 * S

crewdriver

3 * Decorative Parts

1 * 20° Lens Camera Mount for C03 Camera

1 * 30° Lens Camera Mount for C02 Camera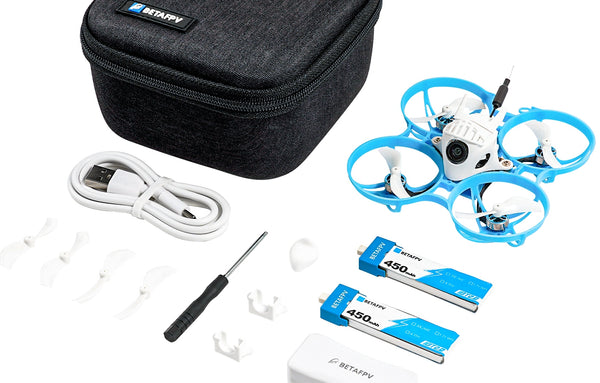 ---